School Lunches
Free School Lunches?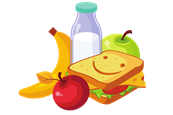 The news you have been waiting to hear!
Good news! Starting Friday, Sept. 11, 2020 through Dec. 31, 2020, or UNTIL the Food and Nutrition funds run out at the federal level, ALL enrolled students will receive breakfast and lunch at no cost to families. Again, this program is predicted to run through December, but could end sooner if funds are not available. This is for ALL students regardless of income and is provided by the USDA.
Students will continue to be charged for extra meals and/or extra entrees.
Families DO NOT need to do anything to take advantage of this service.
If you have already deposited money into your child's account it will remain in the account and be available for your child to purchase additional entrees (if available at their grade level) or when we are required to charge for meals in the future.
Please contact the district office if you have any questions about this opportunity.